Data Center Cabling Management Best Practices – Part 2
Part 2 will discuss more best practices for data center cabling management.
Document Moves, Additions & Changes (MACs)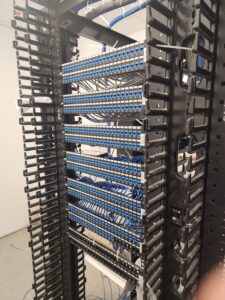 Failing to document cabling MACs can lead to disorganization in the future. Experts strongly recommend that each process is documented using DCIM software. This includes recording new patch cabling installations, including the cable types, connections, cabinet elevations, and technical requirements. Documentation helps minimize downtime because MACs are carried out faster and more efficiently.
Conservation of Cabling
The presence of loose cables can have a major impact on the integrity of the IT infrastructure. IT professionals will find it difficult to carry out MACs efficiently and safely. Thus, it is worthwhile to precisely determine the lengths of each cable that will be installed.
Avoiding unnecessarily lengthy cables will ease their installation and help maintain organization. In addition, money will be saved by only purchasing needed cabling. Less copper and other materials will be wasted, resulting in environmental benefits.
Consider Compatibility
It is not surprising that professionals focus on the physical distances between connections. However, compatibility is also an important consideration. Considering both factors, your team can design and install a more organized, efficient, and capable structured cabling system. Using proven DCIM software can play an important part by narrowing down the selection of equipment according to compatibility and technical requirements.
Future Proofing Infrastructure
As technological demands increase rapidly, organizations are forced to quickly implement advanced digital processes to promote growth and remain competitive. Thus, IT professionals must carefully consider how they will get future-proof their systems. They must also replace configurations and equipment that may be hampering expansion.
When your company is considering data center cabling management, it is crucial to factor in the existing and future requirements in terms of business and technology.  Doing this skillfully will prevent expensive and time-consuming changes to your IT infrastructure over time. This will not only avoid wasteful downtime but also help ensure your systems can accommodate increasing demands due to growth in the future.
Progressive Office Cabling
Founded in 1986, Progressive Office's success has resulted directly from years of commitment to seeking cost-effective solutions. Progressive teams are committed to getting your data cabling, access control, and telecom systems installed and operating while minimizing disruption and downtime. Call our toll-free number (800) 614-4560 today.