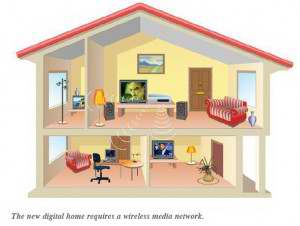 Internet and network access at home is no longer a luxury. It is now an important part of having convenient access to information, Internet and peripherals.
Home networking enables shared access to the Internet, music files, data, HDTV, security and printers.
Our cabling service incorporates a combination of cabling, wireless and electrical powerline networking platforms custom designed to fit the needs of your home. We have the experience to hardwire Cat5, Cat6 or fiber throughout your home. But we can compliment a partial hardwired network backbone with wireless and electrical piggybacking technologies from Netgear that will extend access to every corner of your home.
This drawing shows in a very simplistic way the general topology of a home network installation. Modern network office cabling is a "home run" design that terminates all of the cables at a patch panel. Sometimes this patch panel is located on a rack but in smaller installations, it is mounted right onto the wall. Either way, all cables go from each workstations wallplate to a patch panel. The image below is a larger patch panel.
Before we begin a project, it is important to know a few important things.
* Is your home a new construction project or an existing home?
* How many rooms need to be connected?
* How many total connections?
* Do you need wireless?
Click here to go to a page that will put you in touch with us. Answer all of the questions that you can and we will get back to you with a quote.