Door Access Control Systems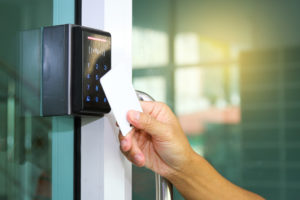 Access control systems restrict and manage the ability of an individual to enter or leave a particular area. These systems are designed to grant entry to an area, building, facility, or room to authorized individuals or prevent the entry of unauthorized individuals. The prevention of unauthorized access minimizes risk and strengthens the security of every business.
Being able to control those who can enter your premises helps prevent disturbances by intruders, losses from theft, and misconduct of employees. In order to provide strong protection for your data, property, and staff members, selecting the correct access and security system for company's doors will be very important.
Basics of Door Access Control
Door access control systems are utilized for the prevention of unauthorized entries. Below are the main features of an IP access control system for doorways:
Door Reader
Controller
Electric Lock
Access Control Management Software
Either a card or key FOB can be used as credentials for identifying authorized individuals who may enter a door. A properly working access control system is capable of determining who may open a particular door during preset scheduled hours and period of dates.
Access Control Systems for Enterprises
For a smaller enterprise that anticipates growing fast over the next few years, implementing an access control system that can easily scale will be crucial. Our access control solutions offer a system that lets a company easily expand from just one door and a handful of users to thousands of doors and users.
Every door has an individual network-attached controller, making rapid expansion of the system easy. It is a commercial access control system that has advanced functions intended for highly complex access control environments.
The system features a door access controller, which runs on Power over Ethernet (PoE). It offers several kinds of door readers, which support the standard 13.56 MHZ. HID, or 125 kHZ RFID smartcard credentials. Other readers are capable of supporting Mobile Credentials utilizing Bluetooth smartphone connections, as well as biometric readers.
Structured Cabling Installation
A structured cabling installation can become quite complicated for access control systems. Nowadays, a composite cable containing several wires that are insulated separately is run in order to facilitate the installation and simplify maintenance.