Temperature Detection and Screening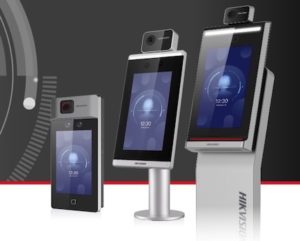 COVID-19 cases surpassed three million cases worldwide as of June 2020, and organizations are seeking non-invasive ways that will help prevent the spread of this virus that has taken more than one hundred thousand lives in the United States.
The effectiveness of these methods will be significantly important as states reopen businesses throughout the country while the corona virus remains a threat to public health. Businesses will need tools beyond social distancing and face masks to help protect the well-being of their workforce and those who visit their facilities.
Infrared Cameras
An effective and non-invasive way for temperature detection that is gaining traction is the body temperature detection infrared camera. Even though there is no camera existing that can diagnose COVID-19, an infrared camera is capable of detecting high body temperature, a symptom that is commonly associated with the corona virus.
Infrared camera systems are non-invasive, and they can screen individuals without requiring physical contact. In addition, the use of infrared technology increases security at facilities by quickly detecting a health threat, protecting both an organization's employees and guests.
The following will discuss the products offered by Hikvision, a leading provider of thermal scanning technology that can be deployed in either public or private places.
Screening Thermal Solutions
Utilizing algorithms working with hi-tech detectors, Hikvision Temperature Screening Thermographic Cameras were developed for the detection of elevated temperatures on skin surfaces. This advanced temperature detection technology is capable of fast and efficient preliminary temperature screenings of individuals in airports, factories, office buildings, railway stations, and other public facilities.
Accurate up to ±0.3°C
Only one second needed to detect person's skin-surface temperature
Simultaneous temperature detection of several individuals
Measurement of individuals is non-contact, avoiding physical contact
Alarms immediately in order to notify operators
AI detection technology, decreasing false alarms from untargeted heat sources
Core body temperatures should actually be verified by utilizing clinical measurement devices. In all circumstances, our team highly recommends that thermographic cameras are used only in accordance with federal and local regulations and laws.
Temperature Screening Packages
Turret/Bullet Camera
iVMS-4200 + Laptop + Tripod/Bracket
Accurate up to ±0.5°C.
Turret/Bullet Camera + Blackbody Calibrator
iVMS-4200 + Laptop + Tripod/Bracket
Accurate up to ±0.3°C.
Enhanced by blackbody calibrator, increasing accuracy from ±0.5°C to ±0.3°C.
Featuring AI detection, turret/bullet camera decreases false alarms from other heat sources.
Handheld Camera
Thermal app + Tripod
Accurate up to ±0.5°C.
Using a Wi-Fi module, handheld camera connects to computer or smartphone.
Built-in speaker provides audio alarm.
Operational Tips
Cameras should be installed inside windless indoor environment
A clearly marked temperature measurement zone should be set up.
Elevated skin-surface temperatures should be verified by a thermometer.