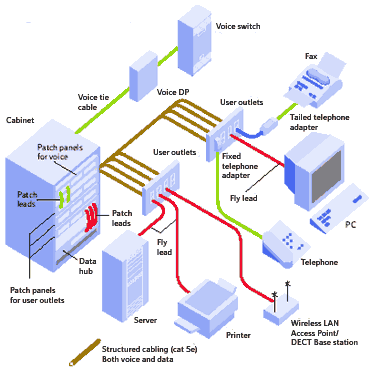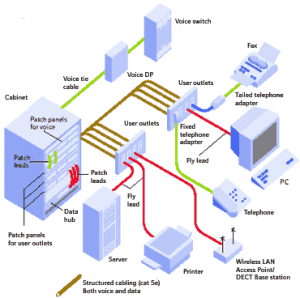 The structured cabling system is a comprehensive structure of wiring and the related hardware involved. This system ensures a complete and reliable telecommunications infrastructure. This network has several  but mostly for providing telephone services or conveyance of data over a  computer network. This type of cabling system also connects to the internet at the demarcation point.
A quality structured cabling installation has these common elements:


It must fir the architectural configuration of the building that hosts  cabling installation


It made up of cable and connection fixtures


It connects equipment that cabling is setup to support


Can be designed to enable retrofitting and upgrading


Meets the objectives and requirements of the business


Is backed by a guarantee by the manufacturer and the installer


As installers, we use standardized techniques in the completion and upkeep of cabling systems. This is important to guarantee satisfactory system performance on a technically complicated infrastructure. The benefits of adhering to these standards are that they insure stability of connectivity after setup.
 Structured cabling installations may include:


Entrance facilities


Perpendicular and horizontal backbone conduits or cables


Horizontal lanes


Work area facilities


Equipment areas


Telecommunications racks and cabinets


A cabling connector refers to the mechanical device used in connecting a cable to a device or from one cable to another. The connector provides the coupling device that can minimize losses.  For fiber, it permits light signals to move from one connector to another. On the other hand, copper enables electrical impulses to be conveyed. It is important to properly align these  connectors to prevent connectivity breaks. Likewise, it should insure the efficient transmission of data. Connectors are crucial to the reliability of the total telecommunications network.
There are six subsystems in the structured platform. These are entrance facilities, equipment rooms, backbone cabling, telecommunication rooms and enclosures, the cabling, and the work area.  The first consists of cables, network boundary, hardware for connection, security devices, and equipment attached to the network cabling. Backbone cabling consists of subsystems that provide inter-connection between telecommunication, network equipment and access facilities.  Quite often these are the higher speed cabling components such as Cat6 and fiber that connect among the switches of an office.
Horizontal cabling connects from the desktops and phones to the telecommunications rooms and enclosures. The maximum horizontal cable length should be at no more than 100 meters. These desktop components extend out from the wall plate connection end of the horizontal cabling system to the equipment in the wall closet.
Call us if you need troubleshooting or if you have a need for cabling at your office due to expansion or relocation of your firm. We do free on-site surveys and quotes.